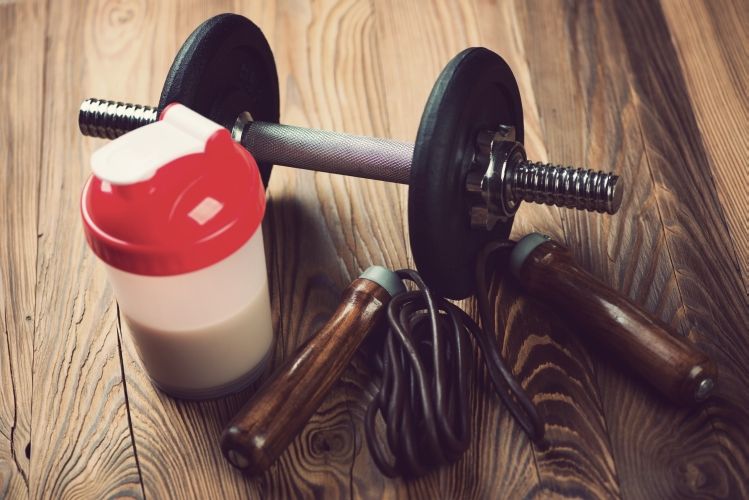 Ask a boxer to list the contenders for nutritional champion and lean protein comes top of the scorecards. It's used to fuel muscle-shredding training, as well as building strength. 'You've got to eat and drink to keep your weight up because you lose weight sweating so much. It's chicken, vegetables, porridge and smoothies with vegetables, yoghurt, mint and ginger. You need to keep it fresh,' says Anthony Joshua, London Olympics Gold Medallist heavyweight boxer.
It's great to have targets for eating proper meals but the realities of modern life mean it's often hard not to leave gaps between training and eating, and that's not good for your progress, says Michael 'Venom' Page, MMA fighter. 'Don't eat too late – I know I'll be sluggish if I eat late and it's not good to go without proper nutrition after tough sessions,' he says.
Fortunately protein supplements provide a fast-acting, low-fat solution to providing your body with the building blocks for muscle maintenance and growth. 'Take on a combination of carbohydrates and protein post-workout to quickly replenish glycogen levels and kick start muscle recovery. Fast acting carbs with whey protein are ideal at this stage,' says personal trainer Lee Constantinou.
Whey protein is fast-acting because it's digested quickly and absorbed rapidly by your intestines. As well as containing immune-system boosting glutamine, it also contains high levels of amino acid leucine. 'This is a key signal molecule for initiation of muscle protein synthesis (MPS) and an important substrate for muscle protein,' says Anita Bean, nutritionist and author of Sports Supplements. So a protein shake after a workout provides the kind of environment that your body needs to get stronger and fitter, faster - time to float like a butterfly and sting like a bee…
Advice is for information only and should not replace medical care or recommendations. Please check with your GP before embarking on exercise or nutrition regimes for the first time.