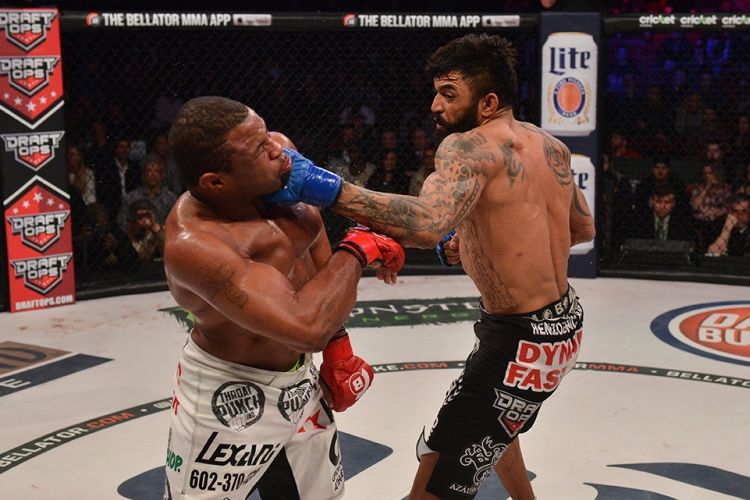 On 27 February, Liam McGeary, from Norfolk, beat Bellator's light heavyweight champion – American Emanuel Newton – to win a title in one of the world's biggest MMA promotions. He told us about how he won, the road to fight fitness and how you can get into MMA…
Q: You looked surprised when they announced you'd won the fight. How did you feel?
A: A bit shocked to be honest. During the fight, I constantly attacked Newton but for a lot of it I was on my back. Normally, if you're fighting a wrestler like him and he's on top, the judges think he's controlling the fight so to have them score the fight for me was surprising – but great. Fair play, judges!
Q: Newton has defeated a lot of opponents with spinning backfists, how did you deal with that move in the cage?
A: Yeah, every time I hit him with anything he was waiting to throw one of those things – and he's dropped so many people with that I had to be constantly prepared for it. In training one of my mates threw lots of spinning backfists when we were sparring, which helped too.
Q: How much higher level is the training in the US compared to the UK?
A: When I was fighting in the UK, my training camp was in Jersey, and it was pretty intense. I always felt fully prepared because I had awesome coaches. In New Jersey, where I train now, the intensity is the same but I have 44 rather than the four people I had in Jersey to train with. Having so many more beasts in the room definitely brings you on.
Q: How has your strength and conditioning training changed?
A: I laid a lot of the fitness groundwork in the UK and I've tried to keep it up as much as possible. I should be doing more squatting and deadlifting to build strength and explosiveness but it's tough when you're tired from going so hard in the 2-3 other sessions we do most days. Having said that, I'm always fit for fights. You can't turn up hoping you get lucky with a strike, you need to be able to grind for as long as the fight could last.
Q: What sports nutrition products do you consume?
A: I drink protein shakes and, for my last fight, I was taking some multivitamins that I got from gnc.co.uk.
Q: What's your advice for anyone wanting to try out MMA?
A: Head to the nearest MMA gym but don't try to master all the disciplines at once – get to a good level with one, then move onto the next one. You need to be well-rounded to be successful.
Q: How has your upbringing helped your fighting career?
A: My dad's a tough dude. He's proper old school – back in the day he used to have fight in the pub then have a pint and chat with the bloke he'd just fought.
Q: What's next for you?
A: Defend the title and earn as much money as I can so I can buy that big house on the beach, haha!
The next big Bellator event is a lightweight title fight between champion Will Brooks and challenger Dave Jansen, and is taking place on 10 April.
For more information go to bellator.com
Advice is for information only and should not replace medical care or recommendations. Please check with your GP before embarking on exercise or nutrition regimes for the first time.