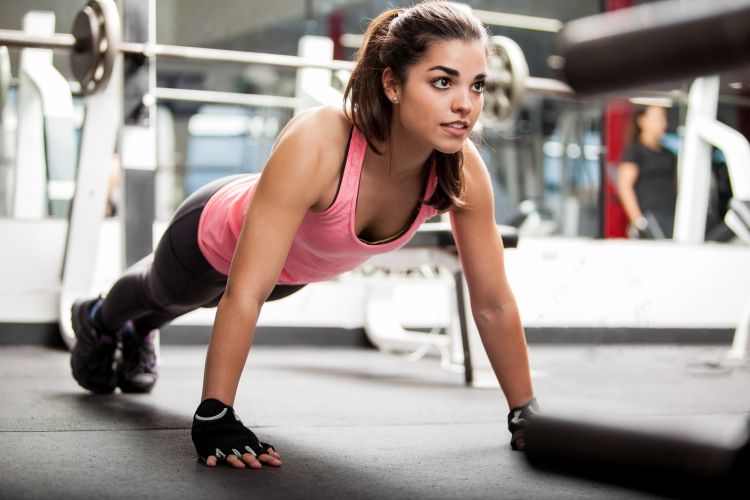 Ever wondered who's the fittest in your gym? Well know you can find out with the gnc.co.uk Triple Fitness Crown - this super-simple fitness test has been designed to find out three things - your strength, your power and your CV capacity.
Do the test with a partner, after a thorough warm up, so that they can scream encouragement, record your score and keep you honest. Then they can post your score online and we can share the results - may the fittest win, and remember, just doing the test will make you fitter, so get involved!
Jump Zone
Stand in front of a wall, lift your hand up as high as you can and mark the wall there with chalk. Then starting with feet flat on the floor bend your knees to drop down before driving up explosively and mark the wall at the highest point of your jump.
Give yourself points for these heights:
Men:
Women:
0-30cm
1
0-20cm
1
31-40cm
2
21-30cm
2
41-55cm
3
31-45cm
3
56-70cm
4
46-60cm
4
71+cm
5
61+cm
5
Treadmill Torture
This one's a toughie but it's simple to do with a treadmill. Warm up then set your treadmill to 7kph and the incline to 1. Now run for one minute and as each minute passes as your partner to increase the speed by one notch. Keep running - that's it! When you feel yourself about to blow make sure you can hit the emergency stop or hop onto the side runners.
How did you do? Compare your score and allocate yourself points
Men:
Women:
Level 8-10
1
Level 8-9
1
Level 11-12
2
Level 10
2
Level 13-14
3
Level 11-12
3
Level 15-16
4
Level 13-14
4
Level 17-18
5
Level 15-16
5
Level 19+
6
Level 17+
6
Press To Impress
The humble press-up isn't just an indication of upper-body strength - if you have a strong core you can ace it too. But they have to be proper press-ups by lowering your chest all the way to the floor, stopping your hips from sagging and keeping your elbows into your sides. Press away!
How did you do? Compare your score and allocate yourself points
Men:
Women:
1-5
1
1-4
1
6-9
2
5-7
2
10-12
3
8-10
3
13-15
4
11-13
4
16-20
5
14-17
5
21+
6
18+
6
Well done! Now total your score up and let us know on Facebook
Advice is for information only and should not replace medical care or recommendations. Please check with your GP before embarking on exercise or nutrition regimes for the first time.